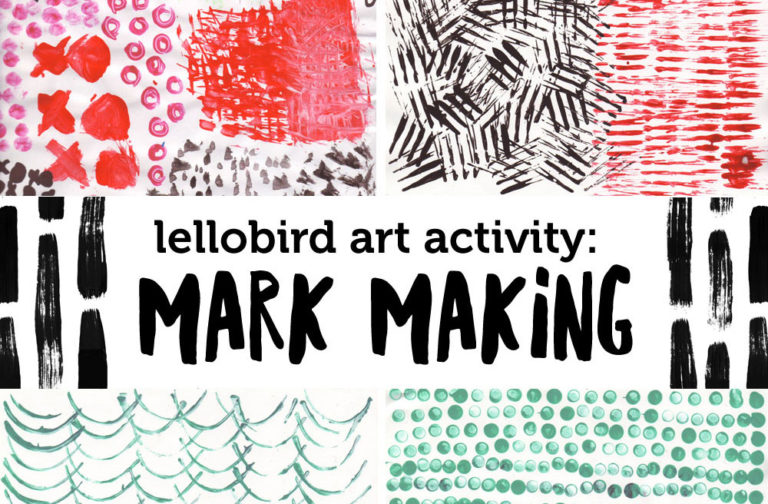 Let your creativity flow by exploring mark making, using various tools to create lines, shapes and texture in your art. This activity is great for all ages, and can be adapted to family art night, roommate bonding, classroom lessons (when we can have those again!), summertime boredom busters, online projects with friends and more. It's easy to adapt this activity to various age and skill levels, attention spans and interests.
Mark making can be the whole art project, or it can be a piece of a larger project. It's also a good way to warm up for other art and can be very meditative. Because it's so open-ended and allows so much room for play and exploration, it's one of my favorite art activities to teach!
Materials:
This project can be adapted to use whatever art materials you have on hand!
You'll need something to make the marks with (Sharpie, poster paint, gouache, India ink, markers, etc.) and something to make the marks on (drawing paper, regular old white copy paper, cardstock, newspaper, cereal boxes, junk mail, wrapping paper or anything else that will hold paint). Black paint or ink works well for starting out. If you're using dark paper, try using white paint. You can use color, too.
To make a variety of marks (and help loosen up your art), gather some interesting objects to use to make the marks in addition to pens and brushes – whatever you have on hand that has an interesting shape or texture (that's okay to get paint on). Here are some ideas to get you started:
Natural materials (sticks, leaves, feathers)
Fingers
Empty cardboard toilet paper rolls
Coffee stir sticks
Cotton buds
Forks
Potato stamps
Pieces of fabric or carpet
Bubble wrap
Kitchen tools (dish scrubbers, sponges, a spatula, an old-fashioned potato masher)
The eraser end of a pencil
Spools
Bingo daubers
How to:
It's always a good idea to start any art project by putting down some newspaper or a dropcloth to protect your work surface.
Draw or stamp a pattern on your paper or cardstock. You can cover the whole page with one kind of mark, or divide it up into sections and make different kinds of marks. Or make one kind of mark over another kind of mark. Don't be too precise – try to just doodle whatever shapes you feel like – scribbles, dots, lines, whatever – or make the same mark over and over without thinking too much about it. If you need some inspiration, I put together a Pinterest board to get you started: https://www.pinterest.com/lellobirddesign/art-lessons-mark-making/
Tip: Some kids (or adults!) – especially the perfectionists – have a hard time getting started because they aren't sure what kinds of marks to make – stamping repeat designs with an object is a great entry point for people who are struggling with what to do.
Extend it:
Go for a walk before you start and pick up things like sticks and leaves that you could use to make marks.
Look at mark-making by artists like Cy Twombly, Eric Carle and Yayoi Kusama (kids will particularly like her sticker-covered Obliteration Room).
Cut up your mark-making papers and make a collage. Make an animal, a forest, your initials or anything else you can think of. It can even be abstract. Trade papers with your art partners to get a fun mix of designs to work with. (If you're using paint, it's a good idea to make this a two-day project so your designs have time to dry before you cut them up.)
Hang your art up on the wall, or mail it to someone to let them know you're thinking of them.
You can also download this information in a PDF for a handy portable project! This printable is free for your personal, non-commercial use – just sign up for my newsletter (also free, and I promise not to spam you, and if you're already on my list it won't double you up!) to download the PDF:

Art Activity: Mark Making
Let your creativity flow by exploring mark making!