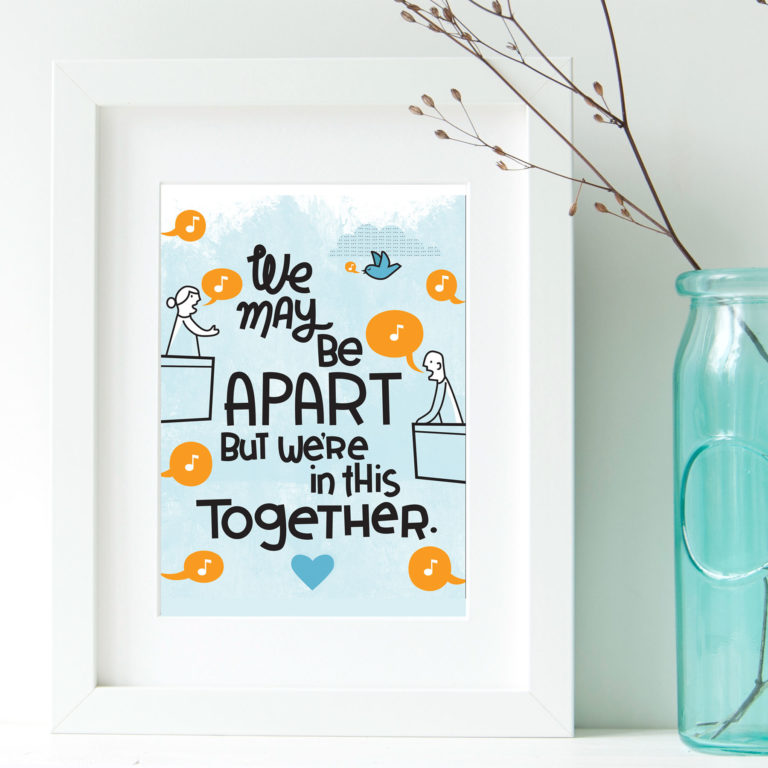 When the COVID-19 news started to roll in from around the world, I originally set out to create a set of WPA-style informational posters about hand-washing and social distancing, as my way of processing the situation through art. But now that we've moved way beyond hand-washing — today my county announced a three-week-long shelter-in-place order that basically shuts down our entire region, and pretty much everything from our daily lives has been canceled through at least the next couple of months — I felt like this poster's sentiment was more about what we all need to hear right now.
Inspired by the stories of Italians singing together from their windows while quarantined, this design celebrates the fact that we're separating ourselves to benefit everyone, because we care about each other, and that although we may be physically isolated we're still part of a community.
I made a color version if you want to print it out and post it by your work-from-home desk or wherever you're hunkering down right now, and a black-and-white version you can color yourself, because sometimes it feels good to break out the crayons or colored pencils and just lose yourself for a while.
Please be gentle with each other and with yourselves, support others if you're in a position to do so, and we'll get through this.
This printable is free for your personal, non-commercial use – just sign up for my newsletter (also free, and I promise not to spam you, and if you're already on my list it won't double you up!) to download a PDF file in US letter-size or A4 format. If you share this poster with others, please link back to this page and/or tag @lellobird on Instagram. Thanks!
Color letter-size:

Apart Together Poster – Color Lettersize
Color A4:

Apart Together Poster – Color A4
Black & white letter-size:

Apart Together Poster – Black & White Lettersize
Black & white A4:

Apart Together Poster – Black & White A4